geometrical optics
chromatism

achromatic combination of two thin lenses placed side by side



Caution
Fill in all input cells.
Choose all parameters unit.
vd1 and vd2 and can be either values or the references of glasses from the catalog.
The achromat is supposed to work for any object position.
Distances are algebric.
Positive direction is according the horizontal arrow in the bottom right of the scheme.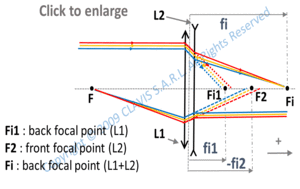 contact : contact@optical-calculation.com - website : www.optical-calculation.com Copyright © 2009 CLAVIS S.A.R.L. All rights reserved