geometrical optics
chromatism

axial chromatism by a lens interfacing different media



Caution
Fill in all input cells.
Choose all parameters unit.
Refraction indexes can be either values or the reference of a glass from the catalog.
If values only are entered, the wavelength will not be considered.
e is positive or null.
Object position and radii are algebric or infinite. Enter "infinite" for a plane surface or an object at infinity.
Positive direction is according the horizontal arrow in the bottom right of the scheme.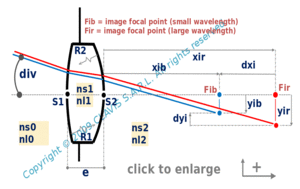 contact : contact@optical-calculation.com - website : www.optical-calculation.com Copyright © 2009 CLAVIS S.A.R.L. All rights reserved