geometrical optics
paraxial conjugation

conjugation for a given object and a thin lens-spherical mirror combination



Caution
Fill in all input cells.
Choose all parameters unit.
Except L which is positive, distances and raddii are algebric.
Positive directions are according the arrows in the bottom right of the scheme.
As light rays pass through the lens twice ( before and after reflexion on the mirror ), fi sign can be confuzing. Sign is positive for converging lens and negative for diverging lens.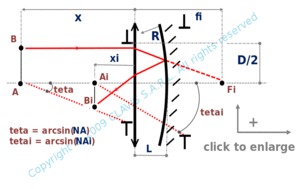 contact : contact@optical-calculation.com - website : www.optical-calculation.com Copyright © 2009 CLAVIS S.A.R.L. All rights reserved