fiber optic
coupling into a MM fiber optic

coupling efficiency of a plane circular lambertian source injected with a lens into a multimode fiber optic



Caution
Fill in all input cells.
Choose all parameters unit.
All input parameters are positive, except m which is negative in order to produce "real" object and image.
x is negative and xi is positive.
Positive direction is according the horizontal arrow in the bottom right of the scheme.
It is assumed that the light source emits on one side only.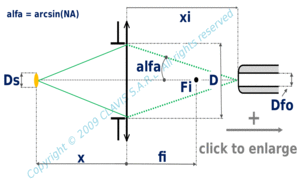 contact : contact@optical-calculation.com - website : www.optical-calculation.com Copyright © 2009 CLAVIS S.A.R.L. All rights reserved