physical optics
fraunhofer diffraction

diffraction by two rectangular slits



Caution
Fill in all input cells.
Choose all parameters unit.
All parameters are positive.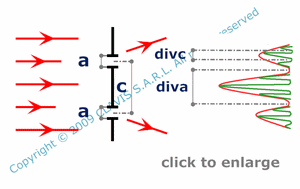 a

: slits thickness
c

: distance between slits centers
lam

: wavelength
diva

: divergence of the brightest band of the diffracted pattern envelope
divc

: angular interference pitch
Note
This calculation page can not detect all unrealistic inputs.


contact : contact@optical-calculation.com - website : www.optical-calculation.com Copyright © 2009 CLAVIS S.A.R.L. All rights reserved