photometry
irradiance in the image space of an optical system

irradiance of a screen conjugated of a small light source by a slightly opened optical system



Caution
Fill in all input cells.
Choose all parameters unit.
The illuminated surface is supposed to be perpendicular to the optical axis and its dimensions as well as the aperture are assumed to be small regarding the absolute value of x.
Except x which is negative, all parameters are positive.
Positive direction is according the horizontal arrow in the bottom right of the scheme.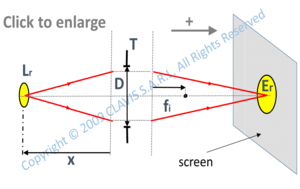 contact : contact@optical-calculation.com - website : www.optical-calculation.com Copyright © 2009 CLAVIS S.A.R.L. All rights reserved