photometry
light source with uniform radiance (lambertian)

irradiance of a surface by a light source at infinity



Caution
Fill in all cells except one.
Choose all parameters unit.
It is assumed that teta is small.
All parameters are positive.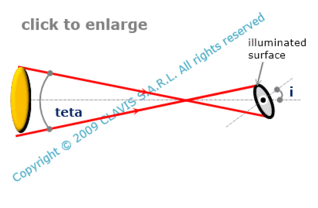 L

: radiance of the light source
i

: inclination of the surface
teta

: angular size of the light source
E

: irradiance of the surface
Note
This calculation page can not detect all unrealistic inputs.


contact : contact@optical-calculation.com - website : www.optical-calculation.com Copyright © 2009 CLAVIS S.A.R.L. All rights reserved