photometry
secondary source

intensity of a perfectly diffusing plane surface ( free )



Caution
Fill in all cells except one.
Choose all parameters unit.
All parameters are positive.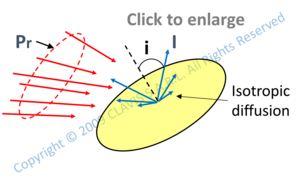 F

: total luminous flux received by the diffusing surface
i

: angle of observation with the normal to the surface
I

: intensity of the diffusing surface
Note
This calculation page can not detect all unrealistic inputs.


contact : contact@optical-calculation.com - website : www.optical-calculation.com Copyright © 2009 CLAVIS S.A.R.L. All rights reserved