physical optics
two waves interferences

relative intensity of a michelson interferometer



Caution
Fill in all input cells.
Choose all parameters unit.
lam is positive and z is algebric.
A 180° phase shift between the optical paths is systematically included in the calculation because it is assumed that there is an air-glass reflection in one path and a glass-air reflection in the the other path.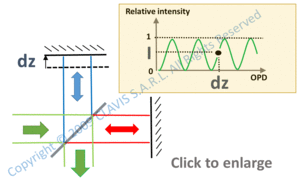 contact : contact@optical-calculation.com - website : www.optical-calculation.com Copyright © 2009 CLAVIS S.A.R.L. All rights reserved