physical optics
two waves interferences

dark newton ring fringes by a spherical surface and a plane surface separated by an air gap



Caution
Fill in all cells except one.
Choose all parameters unit.
The spherical surface is supposed convex.
Both surfaces where reflection occur are supposed to be dielectric interfaces. Consequently there is an air/glass and a glass/air reflection introducing an additionnal phase shift of p.
All parameters are positive.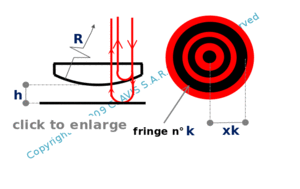 lam

: wavelength
R

: radius of curvature of the spherical surface
h

: gap between the two surfaces
k

: dark fringe number ( counted from the center )
xk

: radius of the dark ring fringe
Note
This calculation page can not detect all unrealistic inputs.


contact : contact@optical-calculation.com - website : www.optical-calculation.com Copyright © 2009 CLAVIS S.A.R.L. All rights reserved