fiber optic
coupling in a SM fiber optic

optimal afocal system for coupling an elliptical beam into a single mode fiber optic



Caution
Fill in all input cells.
Choose all parameters unit.
All parameters are positive.
It is assumed that the waist of the incident beam is located in the front focal plane of the first lens as well as the waist of the refracted beam is coinciding with the fiber entrance in the back focal plane of the second lens.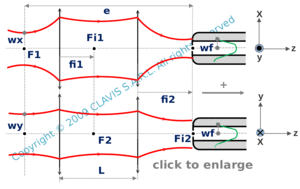 contact : contact@optical-calculation.com - website : www.optical-calculation.com Copyright © 2009 CLAVIS S.A.R.L. All rights reserved