fiber optic
coupling in a SM fiber optic

optimal single mode fiber optic for coupling an elliptical beam with a given ellipticity



Caution
Fill in all cells except one.
Choose all parameters unit.
All parameters are positive.
It is assumed that the beam waist is located at the fiber entrance.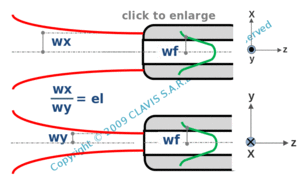 wv

: waist width of the elliptical beam in the vertical plane
el

: ellipticity factor (

el

=

wh

/

wv

,

wh

being the waist radius in the horizontal plane)
wf

: mode radius of the fiber optic
Note
This calculation page can not detect all unrealistic inputs.


contact : contact@optical-calculation.com - website : www.optical-calculation.com Copyright © 2009 CLAVIS S.A.R.L. All rights reserved