geometrical optics
focal lengths and principal planes

spherical mirror



Caution
Fill in all cells except one.
Choose all parameters unit.
distances and radii are algebric.
Positive direction is according the horizontal arrow in the bottom right of the scheme.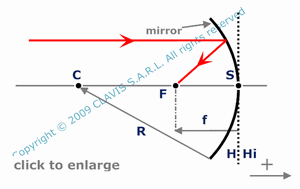 R

: Radius of curvature of the mirror
f

: focal length of the mirror
Note
This calculation page can not detect all unrealistic inputs.


contact : contact@optical-calculation.com - website : www.optical-calculation.com Copyright © 2009 CLAVIS S.A.R.L. All rights reserved