physical optics
two waves interferences

wavelength for given intensity and mirrors positions



Caution
Fill in all input cells.
Choose all parameters unit.
All parameters are positive.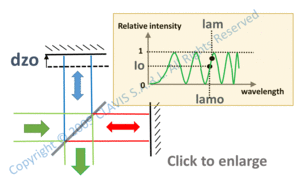 lam

: rough wavelength
z

: difference between the lengths of the two arms
Io

: relative intensity considered
lamo

: wavelength in the range of

lam

values ( if

z

is not too small compared to

lam

) for which relative intensity is

Io
Note
This calculation page can not detect all unrealistic inputs.


contact : contact@optical-calculation.com - website : www.optical-calculation.com Copyright © 2009 CLAVIS S.A.R.L. All rights reserved