geometrical optics
paraxial conjugation

longitudinal shift in Gauss conditions ( free )



Caution
Fill in all cells except one.
Choose all parameters unit.
n can be either a value or the reference of a glass from the catalog. If a value is entered, the wavelength will not be considered.
All parameters are positive except dx which is algebric.
Positive direction is according the horizontal arrow in the bottom right of the scheme.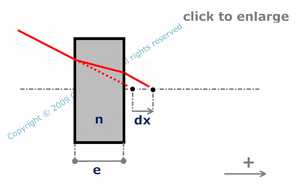 e

: plate thickness
n

: refraction index
dx

: longitudinal shift of light rays after refraction through the plate
Note
This calculation page can not detect all unrealistic inputs.


contact : contact@optical-calculation.com - website : www.optical-calculation.com Copyright © 2009 CLAVIS S.A.R.L. All rights reserved